History of Kamikatsu-cho's Zero Waste Policy
A lifestyle of returning things to nature -
An era of open-air burning
In the past, people in Kamikatsu-cho used to live self-sufficiently.
Things required for daily life were made from materials such as wood and bamboo, and no garbage was produced.
Industrial goods such as plastics started to become common after the war,
and when it became difficult to deal with garbage at home, people started burning it outdoors.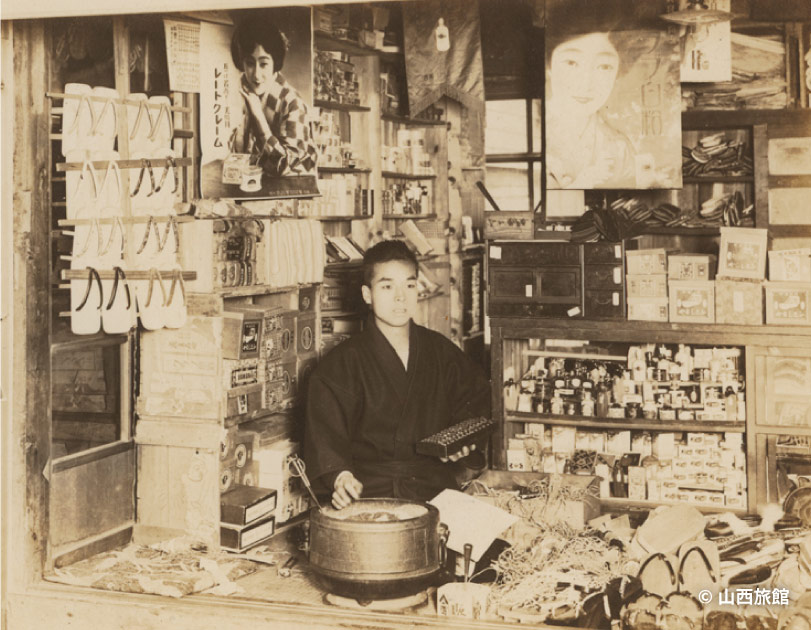 In the period before World War II, the garbage that came out of households in Kamikatsu-cho included kitchen waste, paper, metal, and glass. Kitchen waste was either used as feed for livestock, or used as compost, or dumped in rivers; some metals and glass were collected and sold. Newspapers were used by shops to wrap goods, while tissues were used for kindling, resulting in virtually nothing being left to become garbage. In addition, daily necessities such as buckets and hampers were made using commonly accessible materials such as wood and bamboo, and were mended for continuous use. In the end, they were burned or returned to the earth. Unneeded items were dumped into the river during downpours; this was considered one way of returning materials back to nature.
During the period of high economic growth following the war, there was a gradual influx of industrial goods such as plastics into Kamikatsu-cho. Goods were cheap and easily procurable and things that were no longer needed were burned in household gardens. Around 1975, people began to burn garbage at Hibigatani, the site of the current Gomi Station (garbage collection center). This was not an outcome of the policy, but happened spontaneously. It caused a massive outbreak of fire, which lead to town administrators managing the site; however, open-air burning of garbage continued for more than 20 years. At that time, everything was burned from kitchen waste to cupboards, bedding, tires, and even refrigerators and cars. Therefore, there was a terrible stench and black smoke rose from the site all day and night.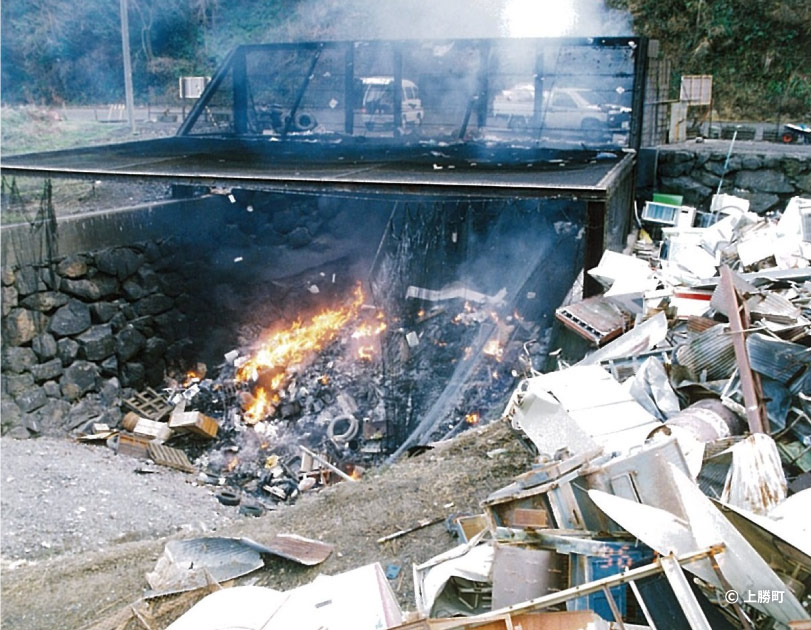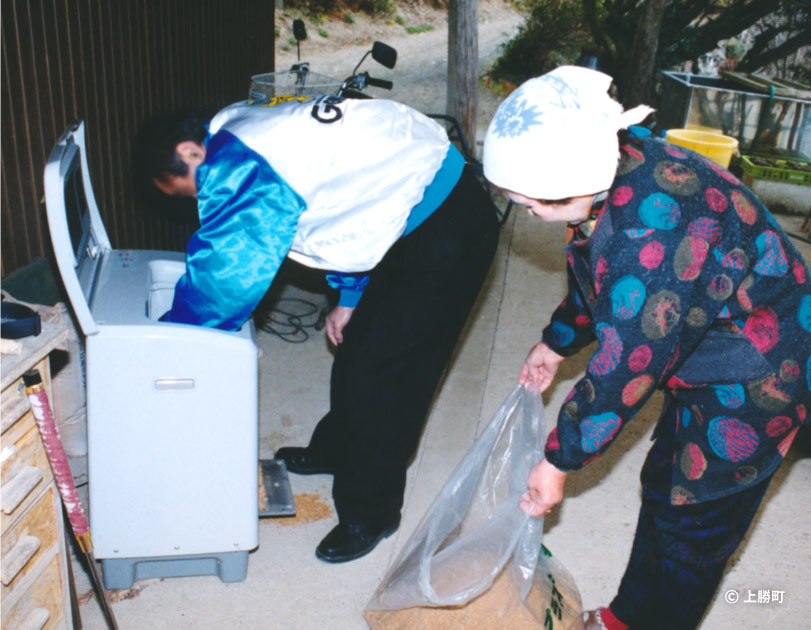 The first garbage reduction policy implemented in Kamikatsu-cho was for kitchen waste. The electric kitchen waste processor became popular owing to the support provided by the town administration. At present, kitchen waste is the heaviest component of general burnable garbage. In 1991, in an effort to cease the burning of kitchen waste, the town administration introduced a system for subsidizing the purchase of compost. Subsequently, subsidies were provided for electric kitchen waste processor, making them available for individuals to purchase at 10,000 yen, as opposed to 80,000 yen before. Treating kitchen waste at home would mean that the Gomi Station in Kamikatsu-cho would no longer smell bad, which, in turn, would lead to the sustainable use and management of vital resources.
Legal regulations and the emergence of various environmental issues have made it difficult to continue open-air burning. Although there is a desire to stop open-air burning, it is not possible to spend large sums of tax money on processing garbage. In 1994, Kamikatsu-cho formulated the Recycle Town Plan to reduce garbage.
Kamikatsu-cho established the Hibigatani Gomi Station in 1997, when the Act on the Promotion of Sorted Collection and Recycling of Containers and Packaging was implemented. This act lead to the resource recovery for nine categories, including cans, bottles, and plastic bottles (a system for bringing items every Sunday). To popularize the system with local residents experiencing sorting for the first time, officials from the Town Hall visited the community and explained the process. They also came along with local residents to sort their garbage at the Gomi Station, thereby providing detailed explanations and support.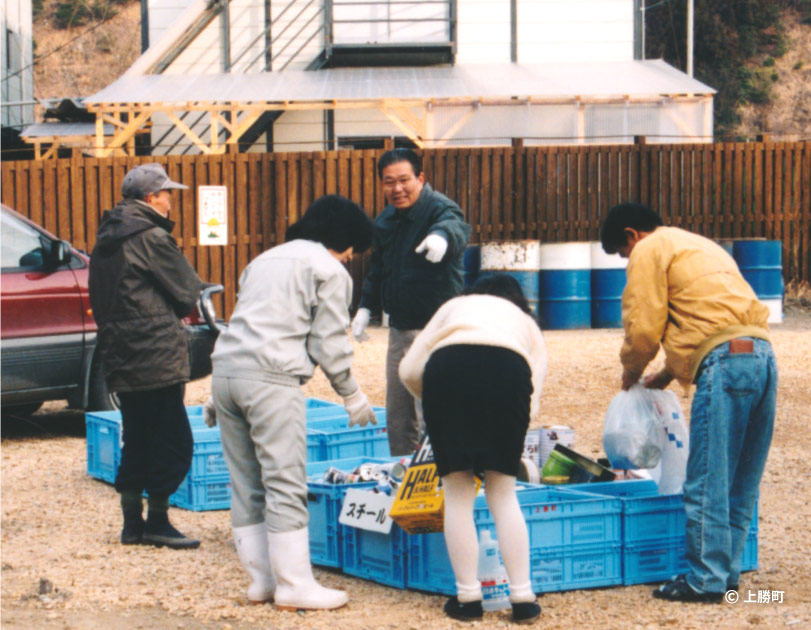 1974  Hibigatani Surplus Soil Treatment Plant used as a temporary garbage treatment plant.
1991  Subsidies for the purchase of compost bins (buyers paid 3,100 yen) were put in place until 1999.
1994  Formulation of the Kamikatsu-cho Recycle Town Plan.
1995  Subsidies for an electric kitchen waste processor (Gomi nice) were put in place (buyers paid 10,000 yen).
1996  Partial closure of Hibigatani treatment plant (Abolition of landfill for nonburnables and oversized garbage).
1997  Hibigatani Gomi Station opened and sorting of garbage into nine categories commenced.
From small incinerators to transition away from incinerators
In 2000, with the amendment to the Waste Management and Public Cleansing Act,
the decision was made to end the open-air burning of garbage that had been conducted in Kamikatsu-cho.
This led to the installation of two small incinerators in Kamikatsu-cho.
However, these incinerators became unusable in just three years,
and the town administration started to promote multi-sorting of garbage in earnest.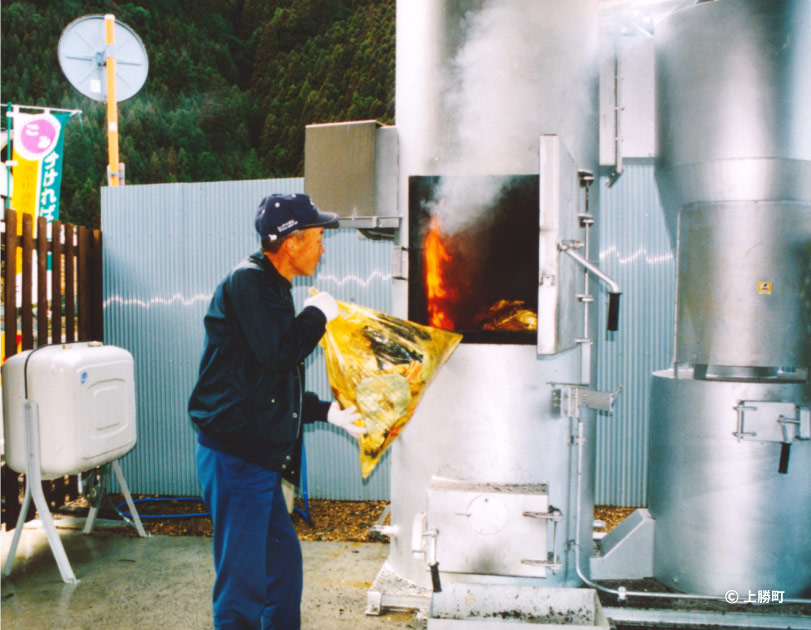 1998: With the decision to close the open-air burning site, the town administration set up two incinerators; they were small in size, considering the volume of garbage. However, the ash accumulated in incinerators filled one drum every three days, resulting in the new problem of how to deal with the ash. With the aim of reducing burnable garbage to a certain extent, the administrators began urgently searching for a destination for items that might be recyclable, and the sorting categories were increased to 25 at the end of 1998.
When open-air burning at households was prohibited and resource and garbage collection commenced, people who faced the greatest difficulties were the elderly and households without cars. A volunteer group "Recycle Kamikatsu" found a solution. They put out a call for "people who want their garbage to be collected" and "people who will collect garbage" and made pairs within areas of the town. The spirit of helping other local residents solved one of the issues of processing garbage. This has transitioned to the town's "general waste transport assistance system." This is not simply a system for transporting garbage; it has become a way of taking care of the elderly, and the spirit of helping others continues.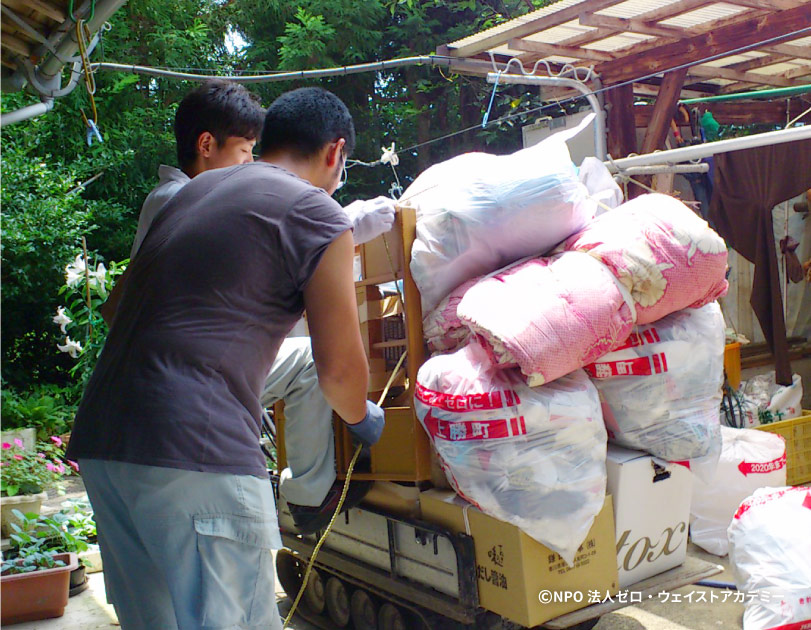 Small incinerators were installed by Kamikatsu-cho during the period that dioxins and other toxic substances became a major social issue. Measurement of the dioxins emitted from the two incinerators revealed that one incinerator was inappropriate. The other incinerator, which was deemed appropriate, could have been kept in use, but the mayor of the town decided to close both incinerators and further increase sorting to reduce burnable garbage. It was in December 2000. However, there was only one month to explain the measure to the local residents. Officials in the relevant department visited 55 villages and explained the situation with great determination. The message seems to have been communicated to people, and there was no major confusion or opposition. The incinerators closed in January 2001 with the commencement of 33 categories for sorting, which subsequently increased to 35 from April in the same year.
1998  Closure of two small incinerators and Hibigatani burning site (open-air burning).
     The volunteer group Recycle Kamikatsu started to assist the elderly in transporting garbage.
2001  Closed the small incinerators, commenced sorting into 33 categories (soon thereafter increased to 35 categories)
     at Hibigatani Gomi Station, which was open daily.
Zero Waste Declaration - Promotion of recycling and reuse
Residents of Kamikatsu-cho could no longer perform open-air burning or use the incinerators,
so they started on the path to multi-sorting garbage in their own way.
At that time, an encounter with an American chemist led to
Kamikatsu-cho making Japan's first Zero Waste Declaration.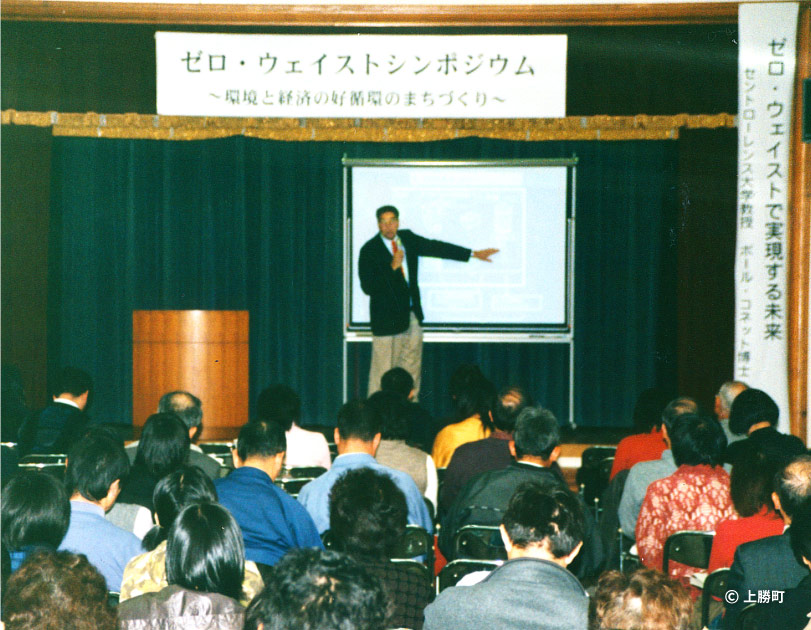 For legal and financial reasons, Kamikatsu-cho started its own way of disposal stating that "separate the waste so that there would be as little burning of garbage as possible." The rumor was heard by Dr. Paul Connett, a chemist and advocate for zero waste in the United States who led the movement to end planning and construction of incinerators. The lecture given by the doctor in the town made local residents aware of the ​​zero waste concept and they nailed down the story. In 2003, Kamikatsu-cho, which received the recommendation of the doctor, made the first zero waste declaration by a Japanese local government. People outside the town mistakenly perceived that sorting started because the declaration was made, but sorting started in Kamikatsu-cho before the declaration. The foundation was already laid that led to the declaration.
In 2005, the NPO Zero Waste Academy was established under the initiative of the government to promote measures to achieve zero waste. Zero Waste Academy managed the Gomi Station while working to raise awareness in the field.
Reuse is more important than recycling in promoting zero waste. Zero Waste Academy has established a free recycling shop called Kurukuru Shop. It is quite pleasing for residents to stop by the Kurukuru Shop when coming to dispose of their garbage.
In addition, a remake shop called Kurukuru Kobo has also been opened, and products such as koinobori (carp streamers) are popular. Apart from this, a free rental of tableware used for events has begun.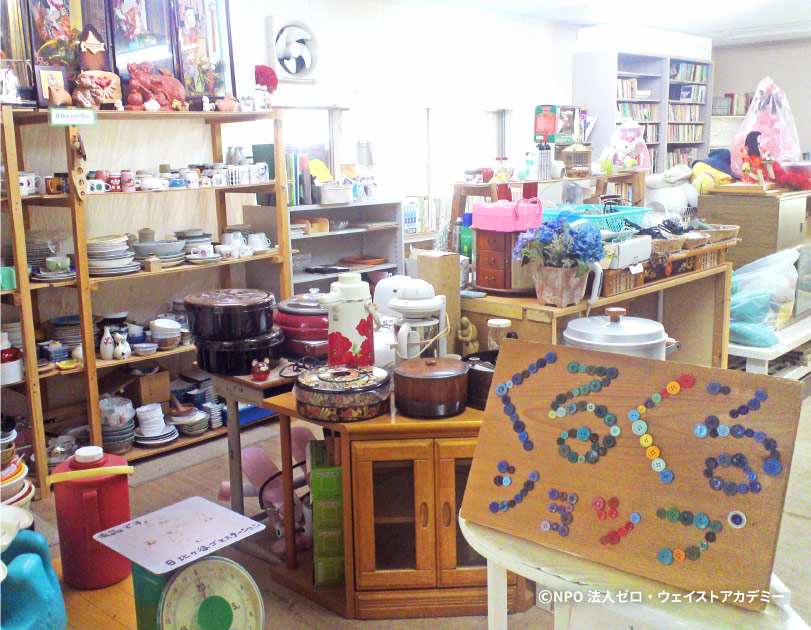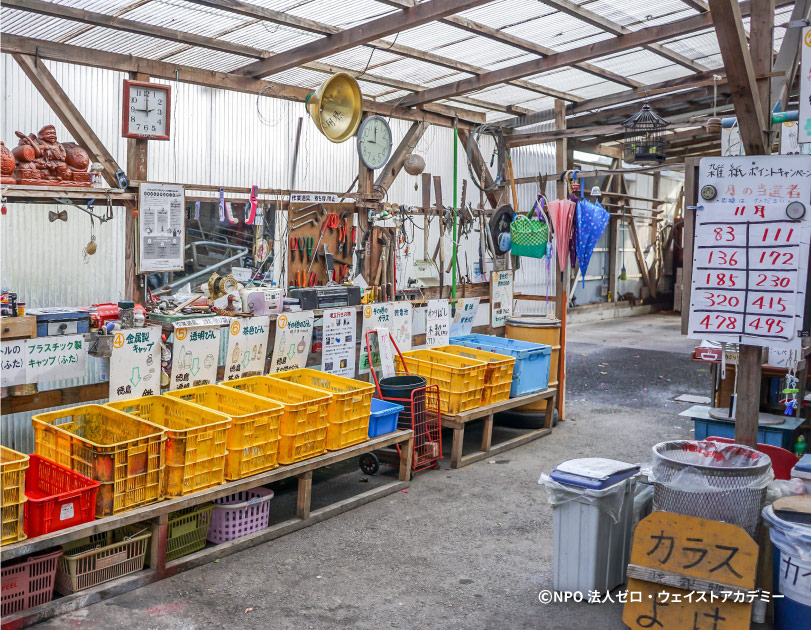 The town administration and the Zero Waste Academy have cooperated in promoting measures to reduce garbage. One of them is the Miscellaneous Paper Point Campaign (later known as the Chiritsumo Point Campaign). Since it was found that nearly 40% of the incinerated waste was mixed with paper, we have put in place a system that allows points to be accumulated when paper resources are sorted and exchanged for daily necessities and gift certificates. After repeated surveys and practices, the recycling rate in Kamikatsu-cho finally reached 80% level in 2016.
2003  Zero Waste Declaration.
2005  Launched the NPO Zero Waste Academy.
2006  Opened the reuse promotion center Kurukuru Shop.
2007  Opened the remake shop Kurukuru Kobo.
2008  Commenced rental of reused tableware.
2013  Commenced Chiritsumo Point Campaign
     (a system for accruing points by sorting miscellaneous paper, etc.
     and converting them into daily necessities).
2016  Changed the official number of sorting categories from 34 to 13 types and 45 categories.
     Achieved a recycling rate above 80% for the first time.
Zero Waste promotion -
An era of reduction and cooperation with industry
Kamikatsu-cho has achieved a recycling rate of 80% by separating garbage into 45 categories.
The goal at present is to reduce the amount of garbage in the first place.
To achieve this goal, we have undertaken various initiatives in collaboration with
business establishments and major manufacturers in the town.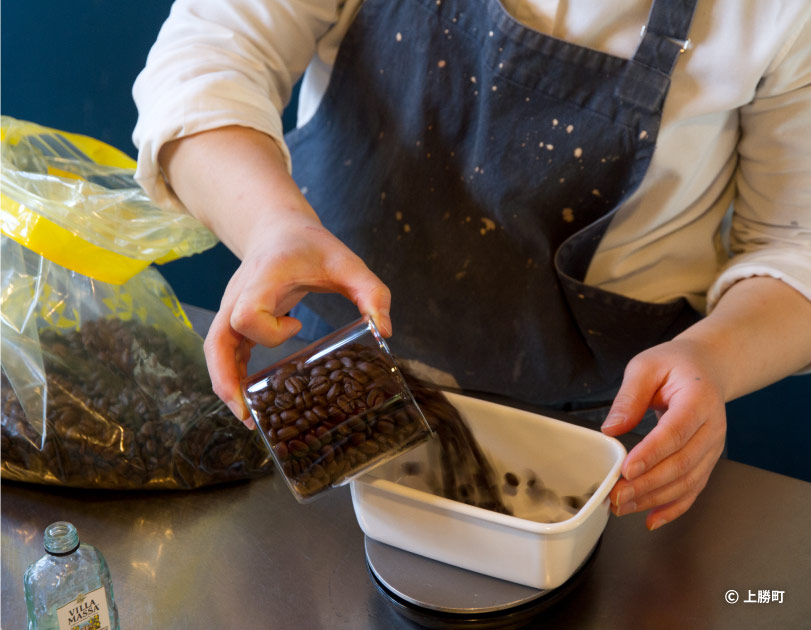 Kamikatsu-cho local residents cooperate in the process of thorough sorting.Recycling rates are approaching the limits of what consumers can do. To fundamentally reduce things that become garbage, the most important thing is to reduce (reduce the amount of garbage in the first place).
In Kamikatsu-cho, with the cooperation of business establishments, we have promoted sales methods that do not require containers and packaging, such as selling by weight and reduction of plastic shopping bags. In addition, to reduce the number of used paper diapers, which is one of the most common materials that should be burned, we have also established a system to offer cloth diaper sets to families with children. Through explanations on how to use cloth diapers, we are working on not only reducing the amount of garbage but also supporting child-rearing.
In Kamikatsu-cho, we started the zero waste certification system in 2017 to create awareness among people regarding the efforts of business establishments working on zero waste initiatives. This system aims to create a louder "consumer voice" by having stores with greater purchasing power than individuals working on zero waste initiatives. Visualizing the efforts of business establishments also generates economic benefits from visitors arriving at stores to learn about the zero waste policy in Kamikatsu-cho.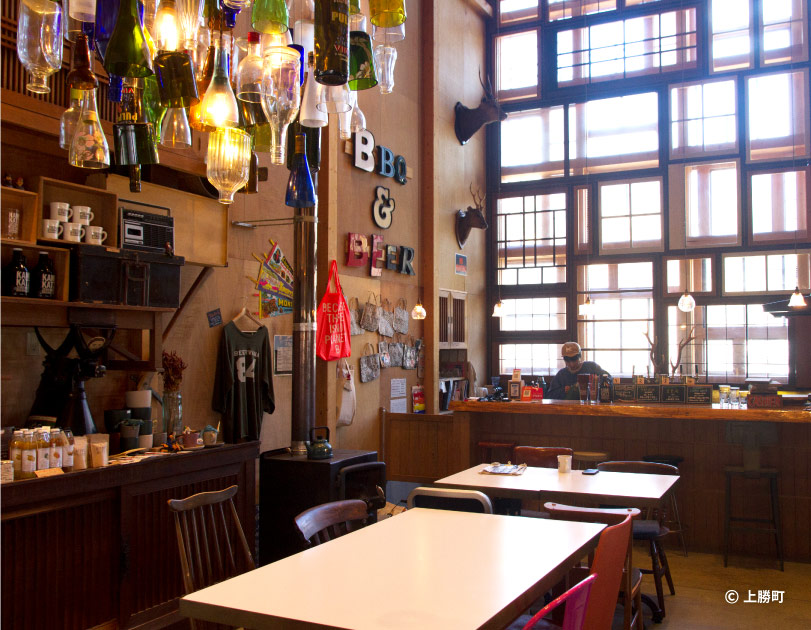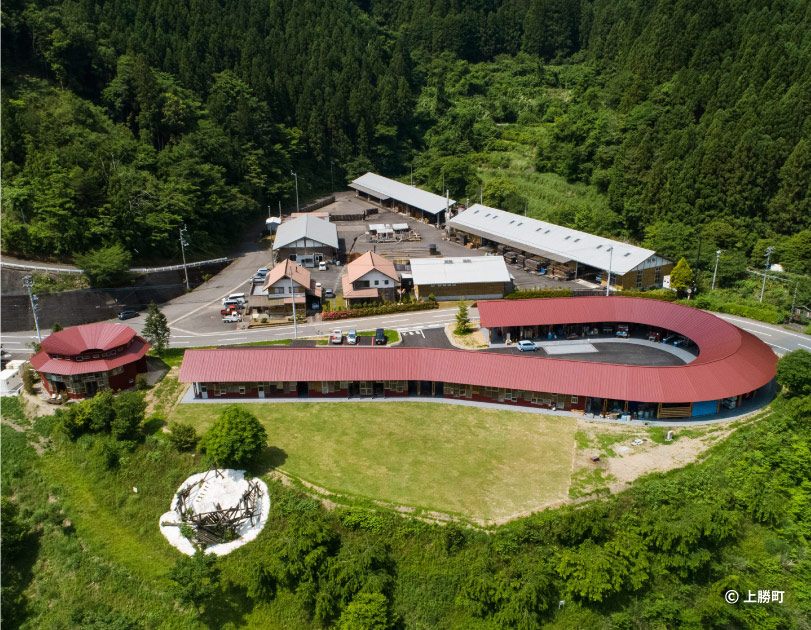 Zero Waste in Kamikatsu-cho has aimed to make friends all over the world. It aims at increasing the number of consumers who are interested in zero waste and creating a sustainable society where manufacturers are responsible for what they make. We have begun demonstration experiments in cooperation with major manufacturers. It is a challenge to instill the zero waste spirit in the economic system of the society.
We are proud that Kamikatsu-cho is the first Japanese local government to make the Zero Waste Declaration. In 2020, we established a new complex called the Kamikatsu Zero Waste Center to let more people know about our efforts. We would like to expand the circle of zero waste worldwide.
2017  Commenced zero waste certification.
     Commenced demonstration experiment for selling by weight.
     Commenced the presentation of cloth diaper starter sets.
2018  No plastic bag campaign started.
2020  Completed construction of the Kamikatsu-cho Zero Waste Center.