Kamikatsu-cho residents'Initiatives
Kamikatsu-cho residents sorting garbage into 13 types and 45 categories.
You may think that zero waste initiatives are very troublesome.
However, all local residents enjoy aiming for zero waste in their respective capacities.
Introducing the lifestyles of such local residents.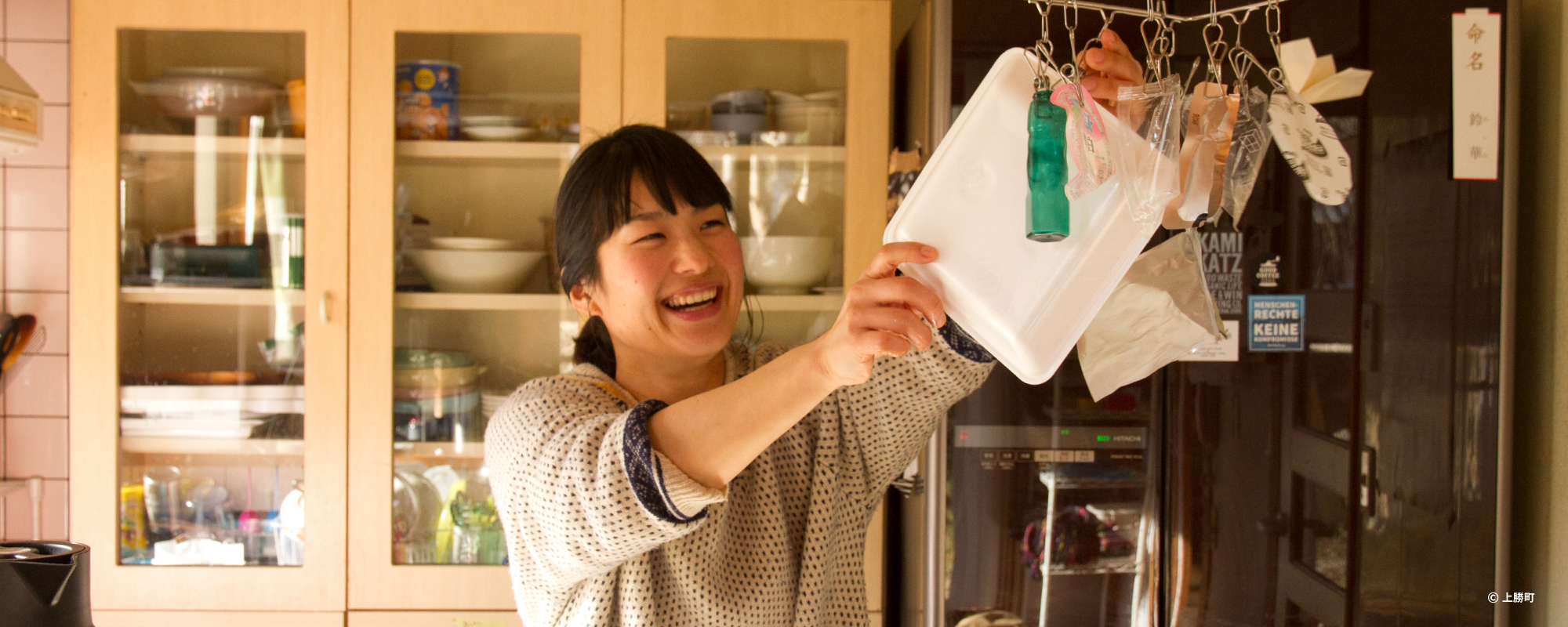 Woman in a family of four
(In her 30s)
Achieving zero waste to the extent you can
I work at a craft beer shop that follows Kamikatsu-cho's concept of zero waste.
I have deepened my interest in it by discussing zero waste with customers arriving from out of town.
I have two boys and it is not easy to raise children,
so I do not overdo it and try to reduce garbage to the maximum extent that I can.
I learned about zero waste after my husband came to work in Kamikatsu-cho. At the time we were living in Tokushima City, my only thought was "isn't it interesting that there is such a town."

In 2018, I started my part-time job at RISE&WIN (a craft beer shop based on the concept of Kamikatsu-cho's zero waste). I thought I should be able to talk about Kamikatsu-cho and zero waste as we have many customers from outside the town. I started investigating matters concerning Kamikatsu-cho and zero waste. The more I studied the more I felt that Kamikatsu-cho's zero waste is really amazing. This made me think, "I want to tell customers about it in a fun way" and "What can we do at the shop?"
In 2019, my family moved to Kamikatsu-cho. When we actually sorted garbage in our household, I thought "It really is a lot of work and it is a hassle." Thus, we tried to reduce garbage in our household and made some changes.

There are places in Naruto that sell miso and other products by weight, so I go there to shop. I learned from a workshop that was held at the store regarding how to keep the kitchen and windows cleaner at home.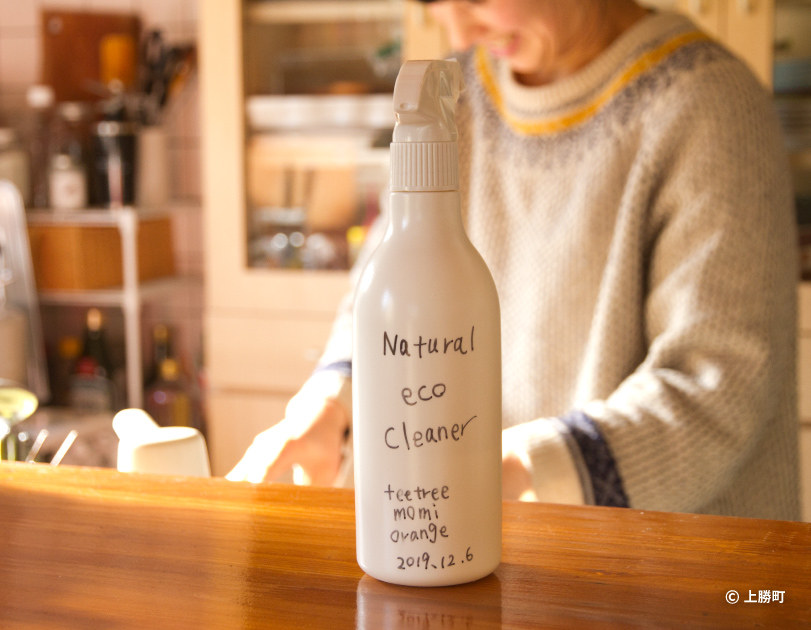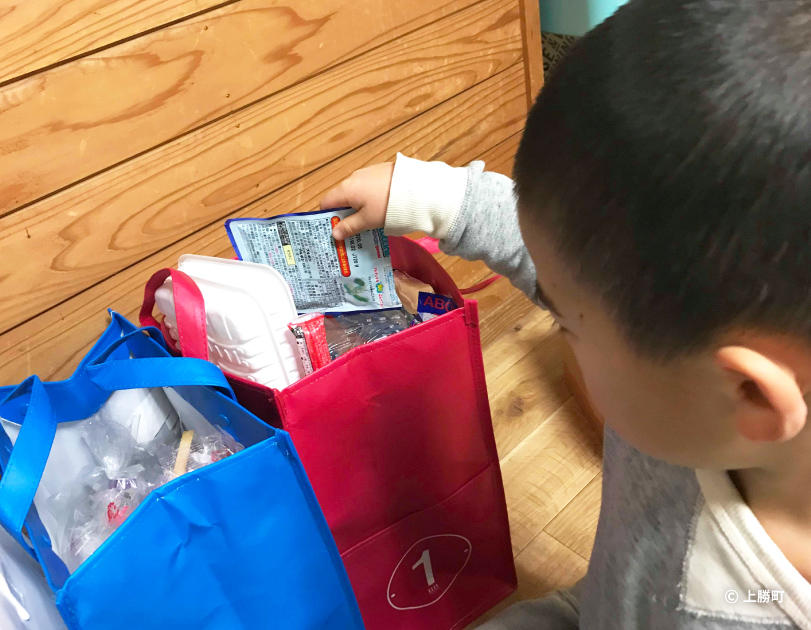 When I deal with zero waste, what I value is doing something within my capacity. It would be really troublesome if I tried to be perfect, so I do not overdo it and just try to do what I can.

It is true that the biggest source of garbage is my children's stuff. Although I would like to buy snacks that have little packaging, I try to get things that my children want.
I try to go to the Gomi Station (garbage collection center) with my children on Sundays. My eldest son (5 years old) appears to have remembered the recycle mark at the Gomi Station. So, when we go for shopping at the supermarket, he sometimes points out "That has the mark!"

Since I have decided to do things within my capacity, I do not feel like I am going out of my way in particular. However, if there are better ways to reduce garbage, I would like to try them.
For example, I think it would be better if you could shop around town without getting so much packaging. I would like to buy meat and fish by weight rather than in packs. As well as, for households with children, it would help if there were a shop near the school that sold daily side dishes by weight.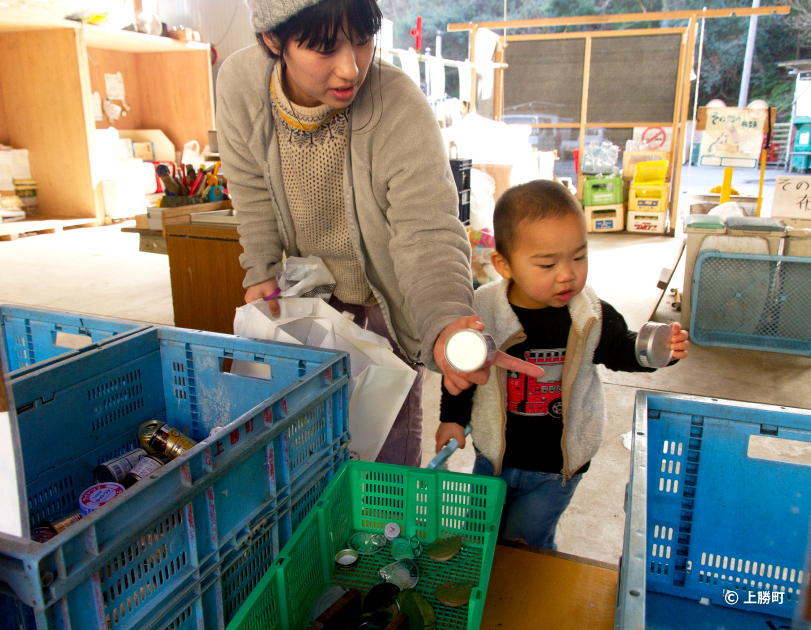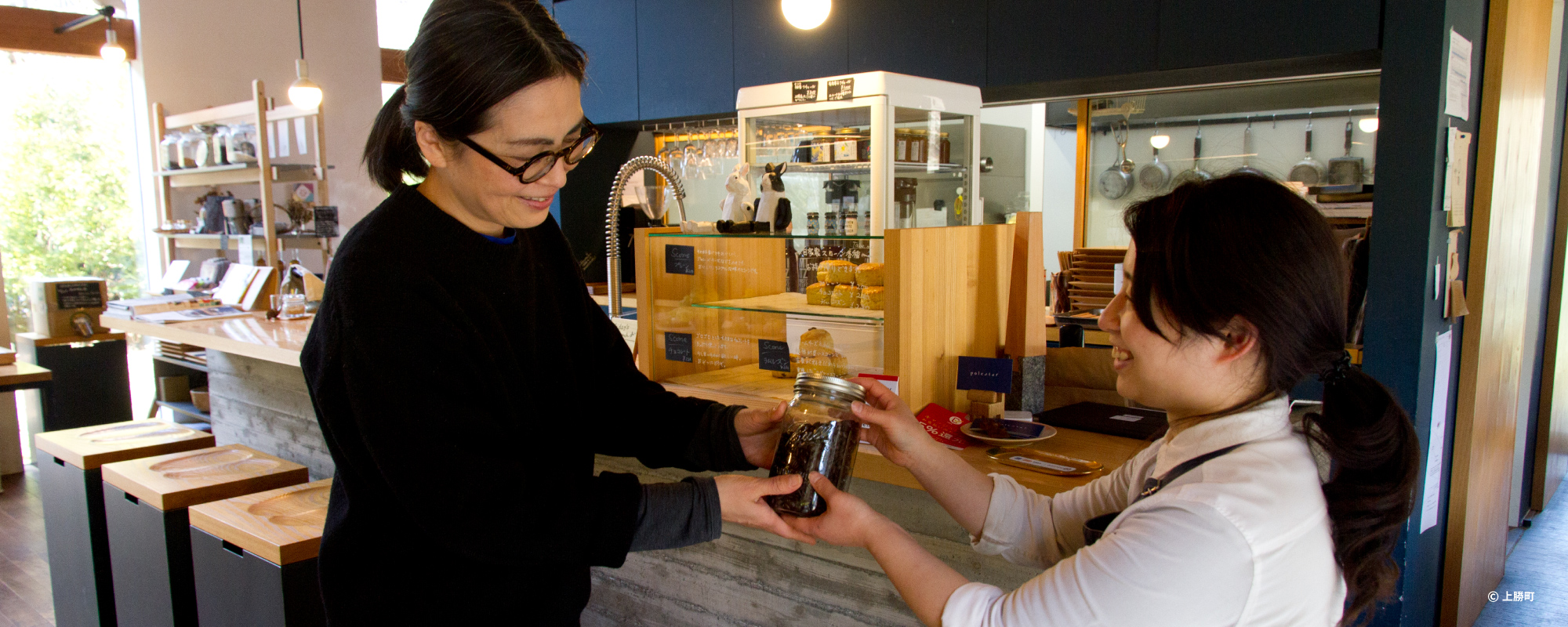 Woman living alone
(In her 50s)
It is nice to live without creating garbage
As times have changed and I went through different life stages, I thought about how I should live in the future.
At such a time, I heard on the radio about how Kamikatsu-cho was dealing with garbage and
environmental problems. That triggered my move here.
At present, I help with farming in Kamikatsu-cho, while doing creative activities using cloth and other materials.
I am enjoying living in a way that does not generate garbage.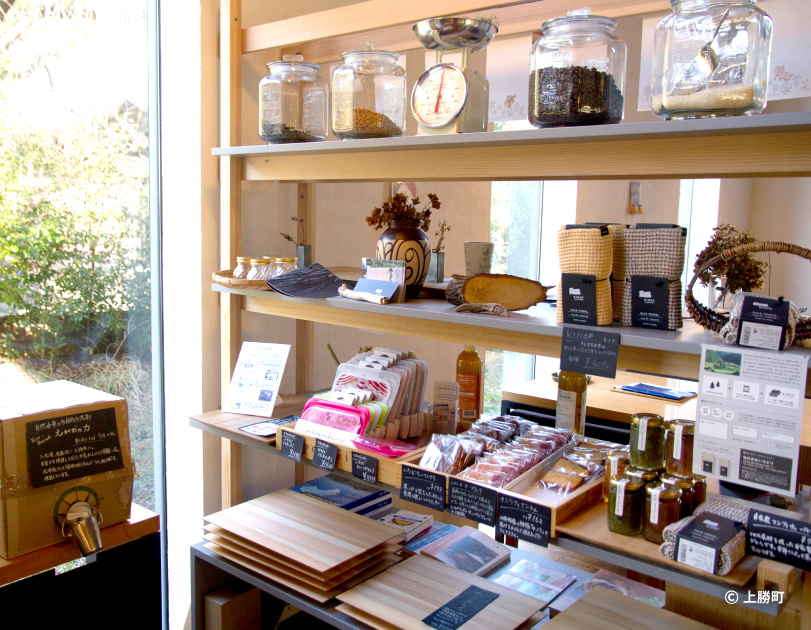 I was not aware of the term zero waste before arriving in Kamikatsu-cho. However, I thought that it had something to do with the way I have been living since my childhood, getting away with anything at hand.

Since I started to live in Kamikatsu-cho, I have been trying harder than ever not to produce garbage. I try to shop at the fishmongers and direct produce markets for tableware and containers.
At times, I visit the cafe beside our house that sells foodstuffs and daily necessities by weight. The fact that nearby there are shops and friends taking the initiative to reduce garbage, eliminating waste triggers the feeling that we are living in harmony, and it makes me happy that I have come to this town.
Before moving here, I worked in exhibition sales in Kyoto, mainly selling bags. Recently, I have been creating pockets using the ends of fabric left over from production. That lets me restore things that meant something to people, by hiding stains and covering up holes. Such items can be reused.

My theme is "to think about what I can do to create a healthy, unique life, and what I can do to let people know about it." Since moving to this town, my life has been all about working out ways to do things as I enjoy them, rather than the thought "because this will generate zero waste."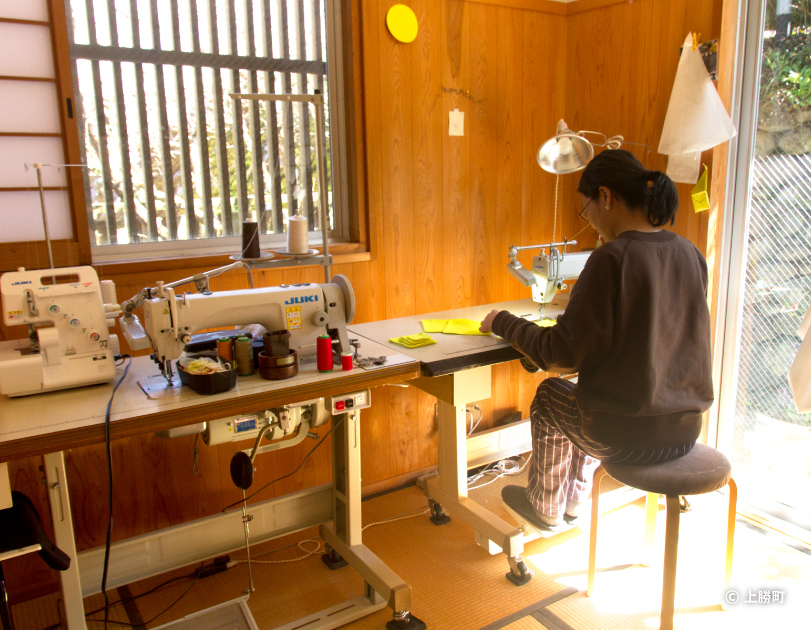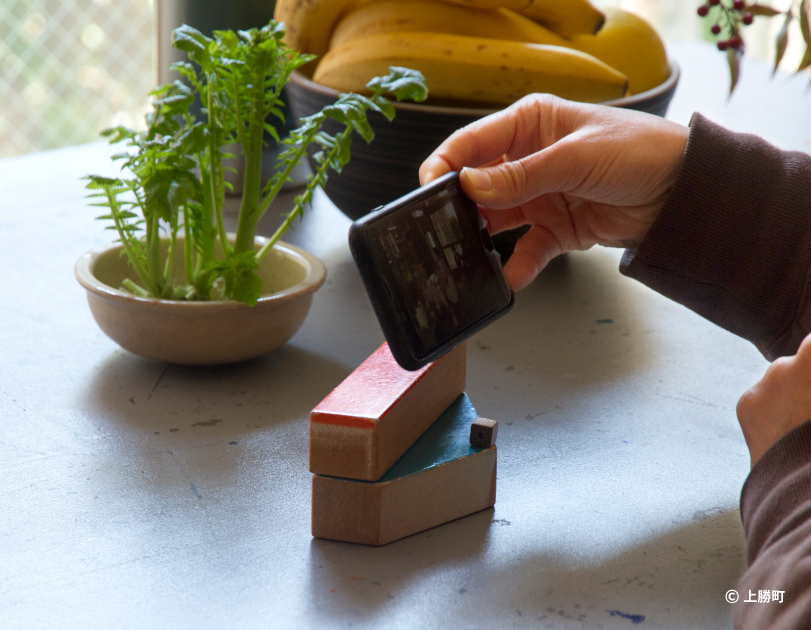 I sometimes go to have a look at the KuruKuru Shop at the Gomi Station. Sometimes I can find substitutes for items that I have been thinking about buying when I come here.

Something really delightful will happen if garbage and waste disappear. This creates a blank canvas known as "time" in our lives. Wisdom and ingenuity are fostered on this blank canvas, and that is what I have been taught by this lifestyle.

I have found a lifestyle that suits me and makes me feel relaxed.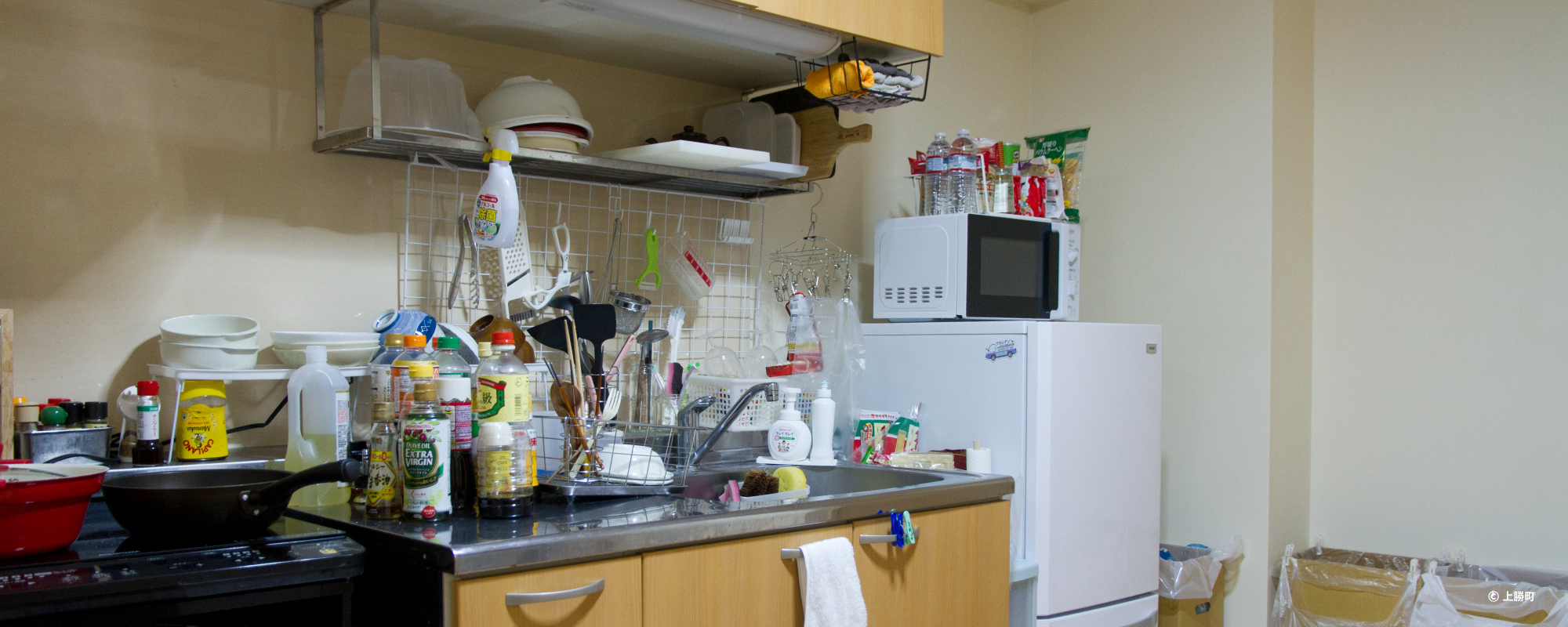 Man living alone
(In his 20s)
Becoming aware of sorting garbage at home
I graduated from high school in Tokushima City and decided on a job in Kamikatsu-cho.
This is my first experience of living alone.
I felt a bit nervous about coming here. The first thing that surprised me in Kamikatsu-cho
was that garbage was separated into 34 types (as of 2016).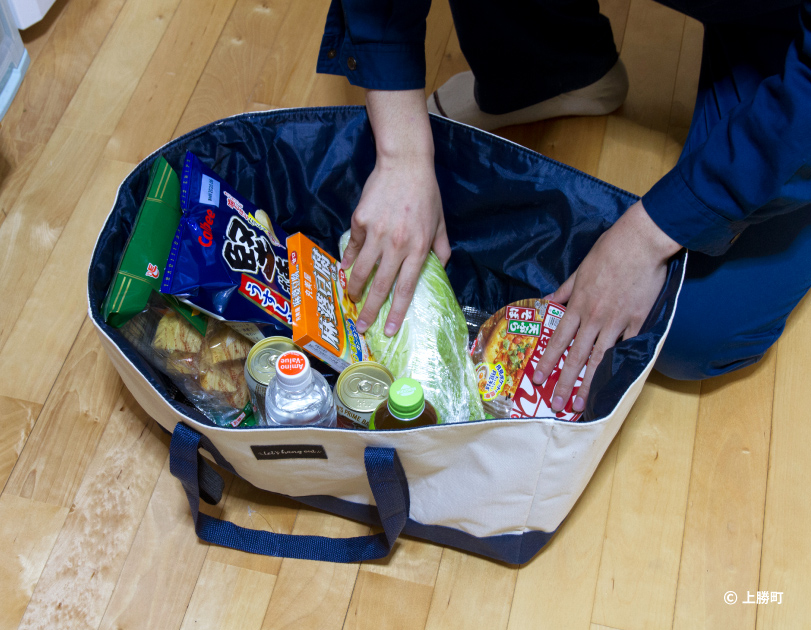 Before moving to Kamikatsu-cho, I did not know anything at all about zero waste. I first learned about separating garbage into 34 types (at the time) after I moved here.
I felt a bit nervous since it was my first time living along, and my first impression was "Can I manage this hassle?"

It did not take long before I was carrying an eco-friendly bag when I went shopping. Everyone around me does the same because the plastic shopping bags were piling up at home.
Four years have passed since I moved to Kamikatsu-cho and I have become aware of separating garbage at home. When I return to my parent's home, the garbage separation will be different, so I need to check every single item.

Due to limited space at home for a single person, I separate garbage into about seven types. When I am busy with my work I sometimes do not have time to go to the Gomi Station, so sometimes I think it would be great if someone would come and pick it up.

Since there are shops in the town that sell things by weight, I would like to try buying items by weight in the future.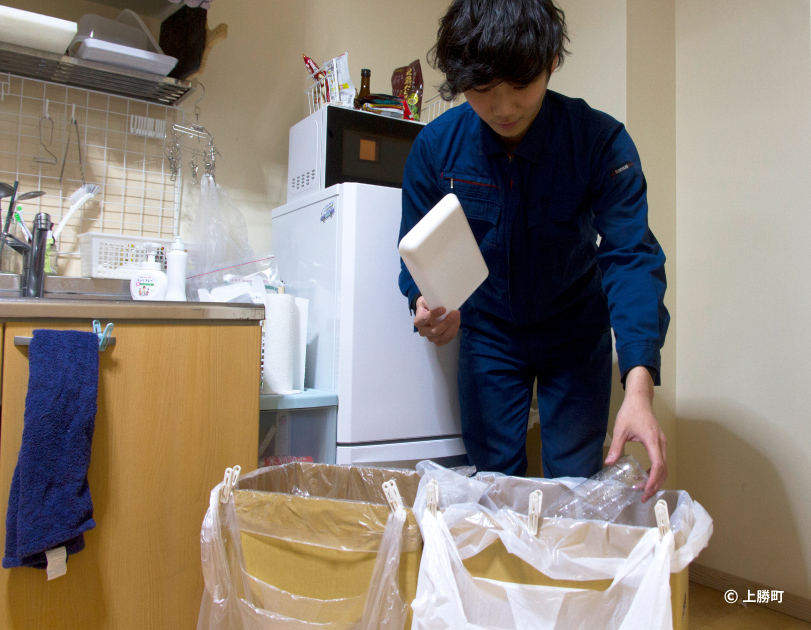 Woman living alone
(In her 60s)
Likes using things that have been used for a long time
Moved here in 2011 and rents an old farmhouse.
I like utensils and instruments that have been used for a long time, so I fix them up myself and use them in my life.
I make an effort not to waste money so I live by doing small things to start with.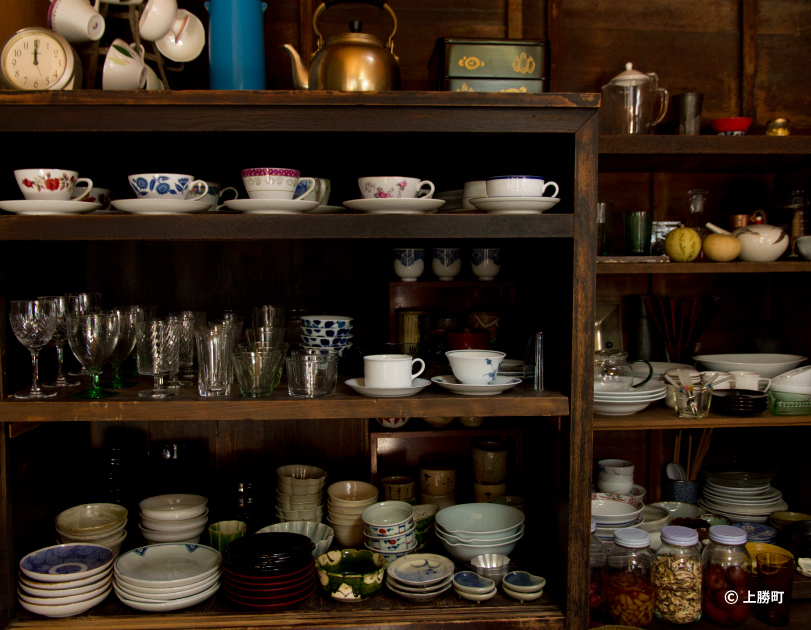 I originally thought that if there were things I thought were good such as utensils and instruments that had been used for a long time; I would like to incorporate them into my life.
Things that are really hard to obtain in the city can be found nowhere but at Kamikatsu-cho, a town of reuse and recycling. It made me very happy.
I often went to the Gomi Station right after I came to Kamikatsu-cho I can be happy for about a week if I find something that meets my tastes.

Things that have been used for a long time have been made carefully and are extremely durable. Therefore, I can use them for a long time after taking good care of them, and I am also happy when I use the things in a different way from the original user. I think about the ways in which an item can be used and I also like to use my hands to make some changes.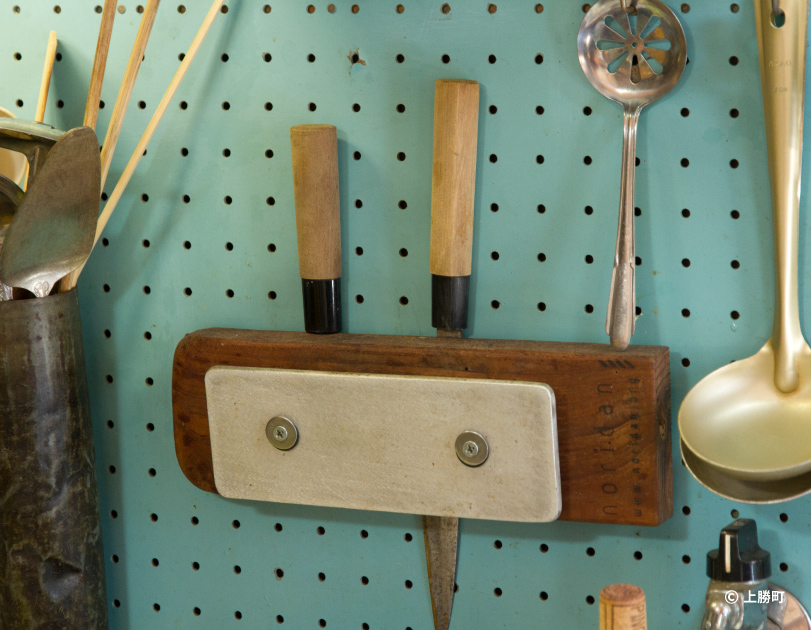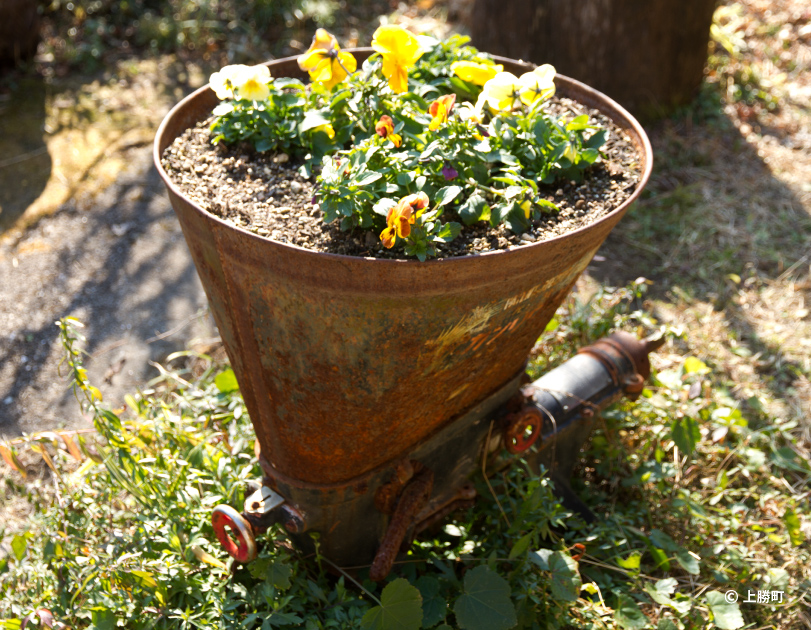 I refrain from shopping as much as possible. Since we are in the mountains, there are things that are familiar to us such as edible wild plants that provide nourishment, and I grow things we are short of in my own field.

I like flowers, so I am growing various flowers in my garden. If I had to buy compost, I would need a lot, so I make it myself. I also found containers in which I grow flowers at the Gomi Station and they are made from scrap materials.

In future, I would like to think by myself, work things out, and live a simple life with few things.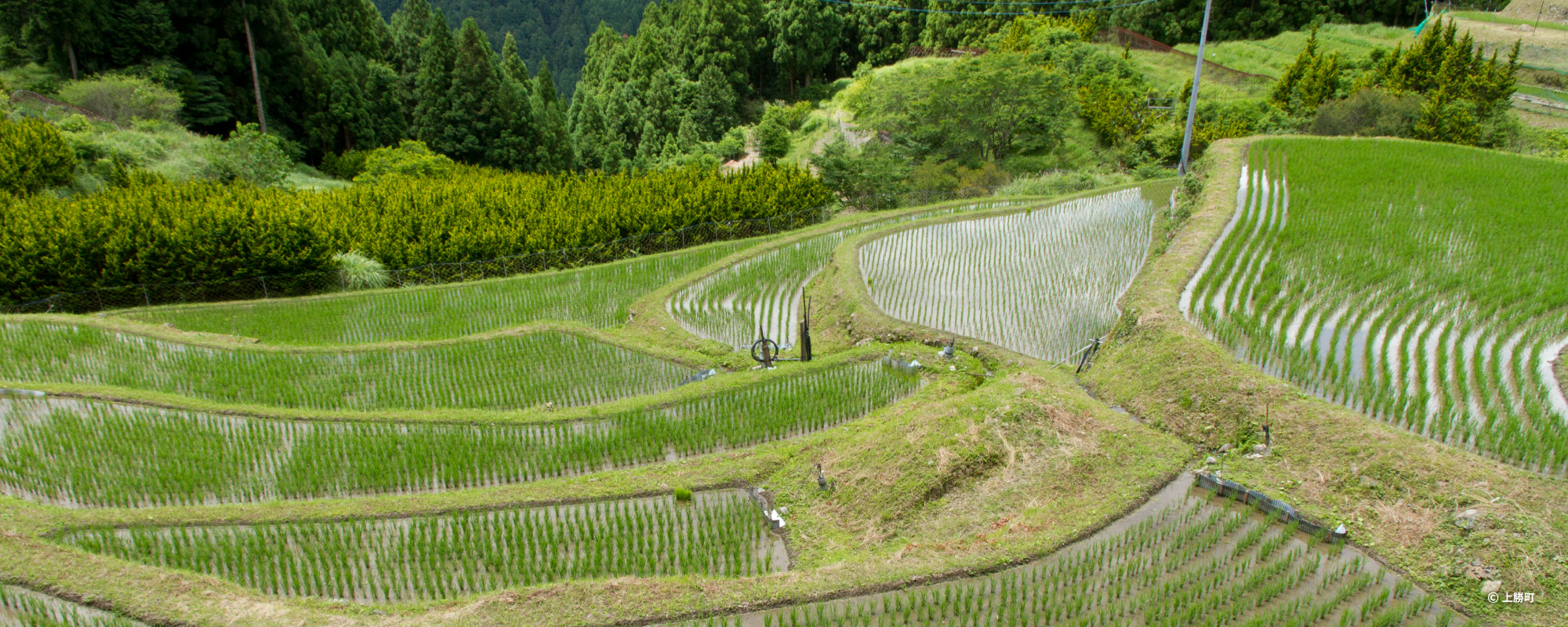 Woman in a family of four
(In their 40s, 50s, 70s, and 90s)
Even if it seems like a hassle, it is fine once you get used to it
Everyone in the family was born and raised in Kamikatsu.
Before Kamikatsu-cho made the Zero Waste Declaration, the family used to burn garbage in the fields.
When we first started separating garbage, I thought it was a hassle, but now it has become a habit.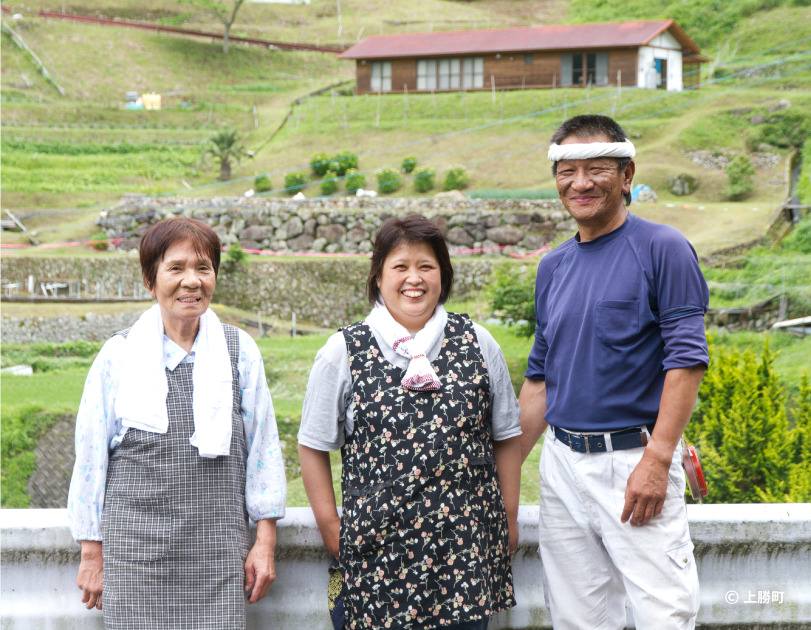 I am from Kamikatsu-cho, but I was born and raised in a different area from the place I am living in now. I lived in Tokushima City only when I was a high school student and for one year after that, then quickly returned here. Since then, I have never thought of living anywhere else other than Kamikatsu.

In the old days, it was natural that households burned garbage in a field. We took things that could not be burned at home such as metals and large items to the incinerator at Hibigatani. Everything was burned at the incinerator including raw garbage and vinyl, and large items including cars.
Soon after the town commenced separating garbage, it was a hassle to sort out everything because we had not been separating before that, so we just separated the things that were easy to sort. I thought it was a hassle to begin with, but since my neighbors took the initiative and promoted zero waste I naturally felt that I had to as well.

I am not going out of my way in particular to reduce garbage, but you will understand that I am also somewhat embarrassed if my garbage is seen at the Gomi Station. This is because people can see if I have carefully washed items or not for example. I do all I can to dispose of garbage without drawing criticism from people.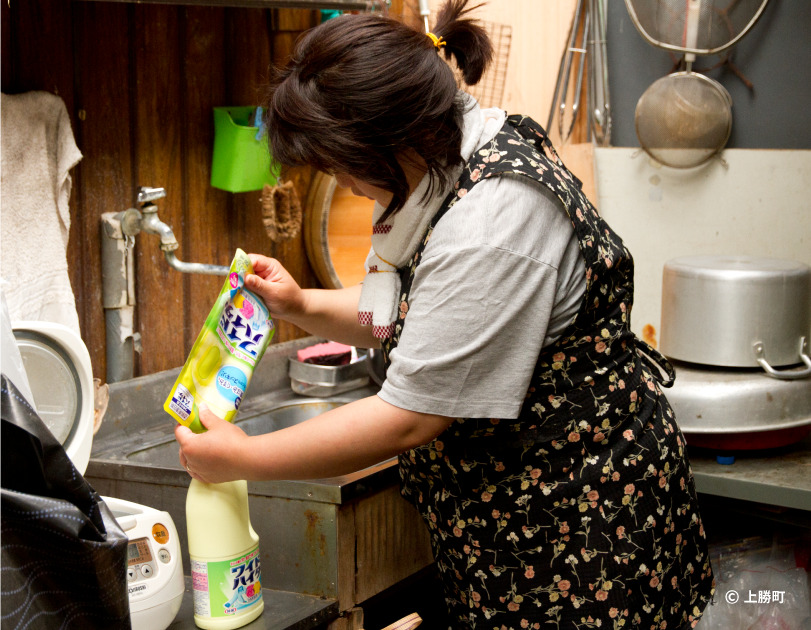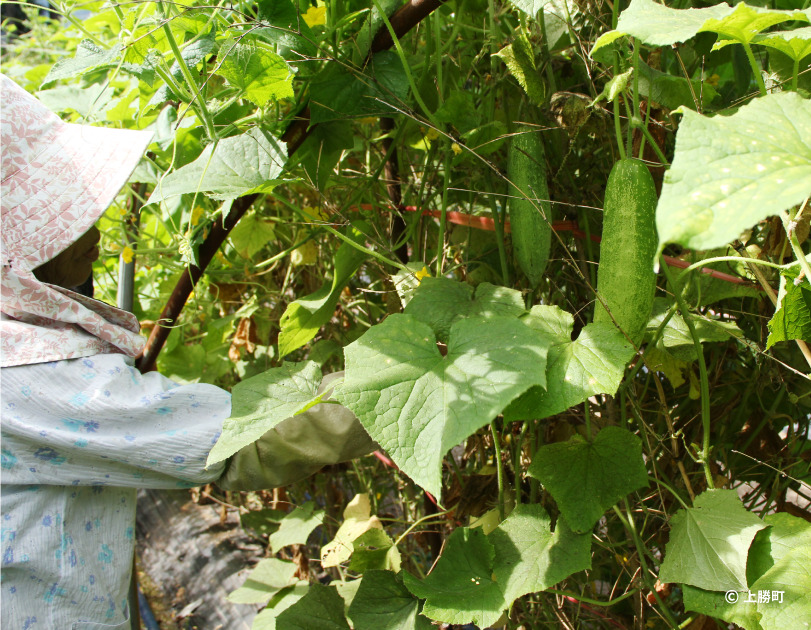 In our house, my mother-in-law looks after the field, so all raw garbage is composted. We grow about 10 different types of vegetables. We sell vegetables at the direct produce market in town and sometimes sell them to restaurants in the town.

We are unable to grow a lot of vegetables, but rather than doing nothing, we would like to do something with the field, and we leave it to my mother-in-law to look after the field. If my mother-in-law was unable to look after it, I think I would like to continue looking after it with my husband.
In the past, there was much less packaging for vegetables, food, and other items. There were people who used to take containers when shopping for tofu and fish. Now, almost everything is in plastic bags, so it may be hygienically good; however, it does increase the volume of garbage.

Kamikatsu-cho made the Zero Waste Declaration in 2003 and it has been 17 years since we commenced sorting. Now, strict sorting has become a habit. Washed garbage does not smell and is neat, so I think that is better.